Successful Well-Being Day for International Students of the University of Sopron
Student Support Center organized second Well-Being Day for the international students of University of Sopron on 19th April. The event started with the guided tour of the Esterhazy-palota and continued with Communication skills workshop that was led by Adjunct Professor Dr. Didem Kepir Savoly.  During the workshop, Kepir Savoly focused on communication within ourselves, body language, mindful listening and speaking as well as "I" language in order to resolve conflicts in communication. The students were enthusiastic to engage interactive and self-reflective activities. They reported that these activities made them more aware of themselves and their dynamics regarding their communication styles and skills. Here are some of the participants' feedbacks about the workshop.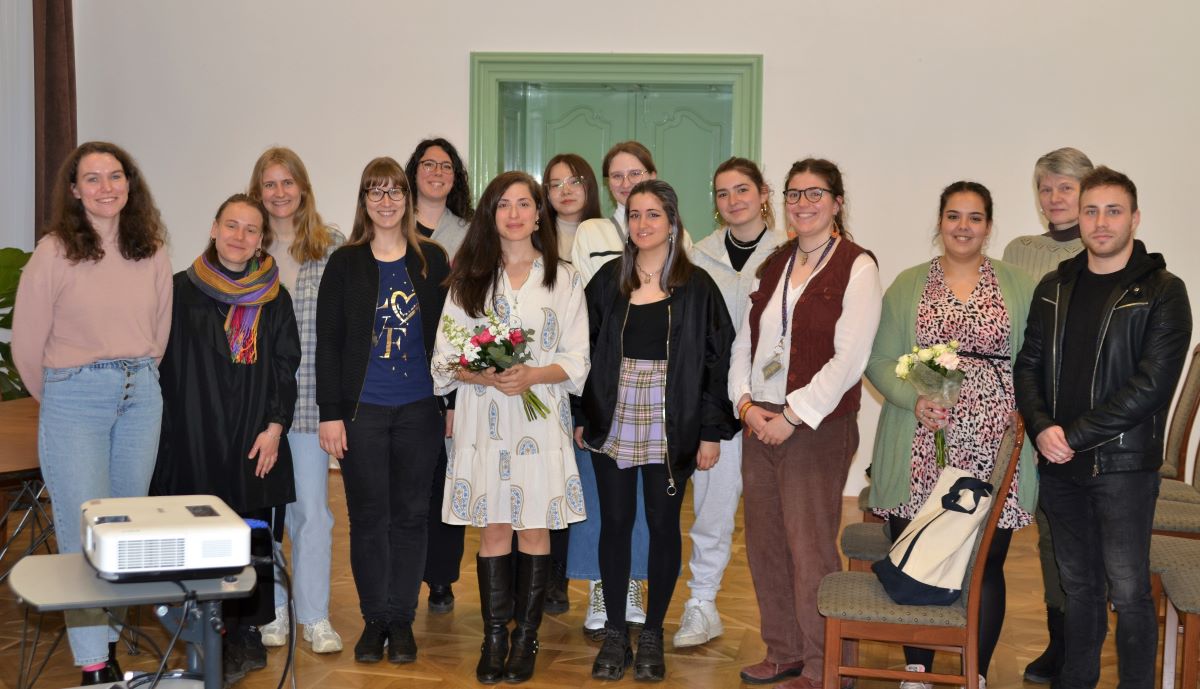 "The activities that took place at the workshop gave me the opportunity to discover new people from the dormitory, and also to talk about topics that I would never have thought to talk with a completely new person. Also, I realized the importance of body language and that sometimes it might be better to let the people talk and express themselves instead of interrupting them consistently. Just looking to the eyes of someone would give you the opportunity to understand how they are feeling. This workshop really helped me. I hope these kind of events would take place more often."
"The communication skills workshop has been one of the most interesting and helpful events I have attended in a long time. The first thing we did was brainstorming to create a mind map of "communication". We also mentioned some communication problems we can usually find. The next thing we talked about was the communication with ourselves. I think it was a great choice to put this right after because it was something I was not expecting, and it made me realize how most times we don't really communicate with ourselves, or we don't do it the way we should, because we don't pay attention to the words we used on the mind map when it comes to ourselves. Working with a partner I did not know was something I really liked, since I had seen my partner many times but we had never spoken before and I felt like the different activities made us connect so deeply and realize we have many things in common and we can easily help each other and ourselves at the same time by being together. We realized that self-talk can impact our relationships with others, so it was good that we learnt that information. The next exercises made me realize the importance of body language. The first part helped me know my partner better (how they use her body language in different situations, the body language traditions they have acquired from her culture and how that can affect other people's image of her, etc). Later, we had to talk about something we struggle with and about something we enjoy to our partner and they had to listen without showing any expression, without using body communication and with no verbal communication either. This activity touched and shocked a lot. It was so frustrating. When I was the speaker, I felt so uncomfortable talking because the lack of reactions made it seem like there was no interest and that made it so hard to continue talking. However, the hardest part was being the listener. My partner opened up about a serious topic and I really appreciated their trust in me. Having someone tell you something so important to them and not being able to show any reaction or offer them any kind of help is so painful. What they told me almost made me cry and I could feel my emotions strongly inside them but I felt like I could not let them out. This helped me understand that body language has a much bigger worth than we tend to think. Afterwards, we had to speak about something else but filtering our words, thinking before speaking, choosing the words wisely. We decided to talk about our self-regulators. It felt much easier than the previous activity, but it helped me organize my ideas better before speaking and realizing some expressions we tend to say are not really useful. Both exercises helped me connect with my partner a lot and thankfully after the activities we talked more about it and it made us feel much better. I feel like we might have the tools to help each other and it is a good chance to meet someone nice. Lastly, we talked about how important it is to think before speaking so we can focus on the "I" instead of the "you", in order to make the other person understand how their actions made us feel without them feeling attacked by us. I think this is an important thing we should try to remember in overwhelming situations when we are under pressure so we can make communication easier."